My vineyards
Observing and identifying the needs of the vine is the main focus of a winemaker. Only a vibrant and vital wine garden with loose, airy soil and a balanced and reasonable level of production will guarantee high quality wine.
It is also of great importance to let the grapes take their time. This ensures that all the unique flavors saturate the berries and can later be found while enjoying the wine.
Sustainability and preserving our natural environment through conscious and economical use of the land is of great personal importance.
The vineyard hare (L. Viniferaeus)
The hare is a representative of fertility, which is not only found in the vitality of the grapes and the soil in my vineyards - the hare is also a symbol for conscious cultivation in harmony with Mother Nature and her other useful vineyard residents.
The appelations

My vineyards are located in the Pulkautal in Haugsdorf, in Breitenwaida and in Fahndorf near Ziersdorf.
HAUGSDORF
The loess soil in Haugsdorf offers perfect conditions for the Grüner Veltliner Weinviertel DAC.
FAHNDORF
Grüner Veltliner Weinviertel DAC Reserve "In der Schablau", Riesling Reserve "Auf der Henne" and my "Gemischter Satz" are grown at Fahndorf.

The 50-year-old vines are rooted in very sparse conglomerate which has been mixed with gravel and sand. White quarz and sandstone are also important soil types of my vineyards in Fahndorf. Due to the age of the vines, the yield is very small. The vines are rooted much deeper than  newer plants and therefore have  different irregation and nutrient  needs to those of younger vines. The special conditions enhance the range of flavours and produce grapes with a very complex and diverse range and a unique characteristic taste.
BREITENWAIDA
Both single vineyards - the Pankraz and Sauberg - are dominated by marl lime, gravel and primary rocks. Quarz and chert parts in the vineyards lead to mineralic and expressive wines.
The wine cellar
My wines are mainly made  in stainless steel barrels, only a small part is aged in wooden barrels. The reasonable use of modern technology without interfering in the aging process guarantees a high quality product.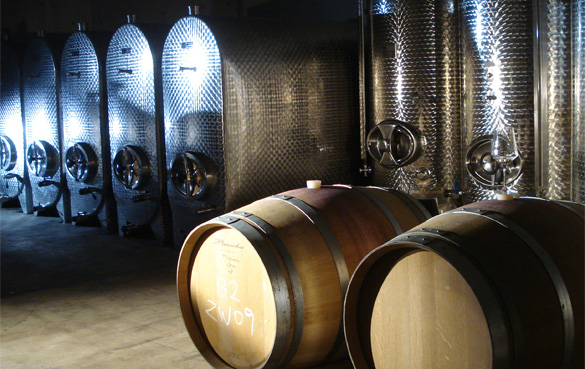 © 2011 www.ingrid-groiss.at | Imprint | Contact|0043-676-3927703